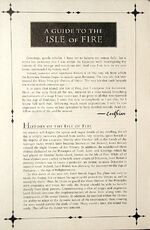 A Guide to the Isle of Fire
is a book written by
Erethian
, in order to educate the reader on the wonders of the
Isle of Fire
while encased in a breathing enchantment on the very island of which he wrote deep below the sea. In real-life, Andrew P. Morris and Ken Demarest wrote the book.
It was included with Forge of Virtue.
Introduction
History of the Isle of Fire
Traveler's Guide
The Bestiary
Helpful Observations
Conclusion
External Links
Edit
Ad blocker interference detected!
Wikia is a free-to-use site that makes money from advertising. We have a modified experience for viewers using ad blockers

Wikia is not accessible if you've made further modifications. Remove the custom ad blocker rule(s) and the page will load as expected.