This article needs Expert Verification. (Specific reason: the identity of the NPC who speaks of Paws becoming a swamp is unknown)
See the talk page for details.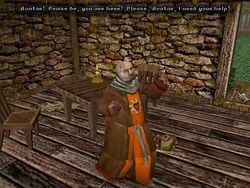 Aidon
is the mayor of
Britain
by the time of
Ultima IX
.
Like everyone in Britain, he had come under the influence of the column, and influenced him to enact harsh laws. Anyone who was found to be poor or sick, was sent to Paws, which by then had been flooded and made into a toxic swamp[1] and had turned into a shanty town[2]. Aidon expressed this as a genuine act of compassion[3].
The Avatar first met him in the city center. Aidon was busy with holding a speech to outline his politics to the people, who believed in this perversion of compassion[4]. When the Avatar later asked for the Heart of Compassion, Aidon denied having it[5].
However, Aidon's policies came back to haunt him when his aide Killigan ordered his sick daughter Meribeth to be exiled to Paws[6]. Aidon went to Paws to get her back and experienced first hand the horrible results of his politics. Saved by the cripple Peg Leg Joe[7], Aidon saw how he lead Britain away from the Virtue of Compassion[8]. After the Avatar had rescued Meribeth from a band of Goblins, he gave him the Heart of Compassion[9].
Later Aidon claimed that Killigan was sabotaging his efforts to return Britain to Compassion[10], causing the Avatar to make further investigations into his aide.
References
Edit
Ad blocker interference detected!
Wikia is a free-to-use site that makes money from advertising. We have a modified experience for viewers using ad blockers

Wikia is not accessible if you've made further modifications. Remove the custom ad blocker rule(s) and the page will load as expected.