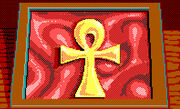 The ankh is a recurring symbol throughout the whole of the Ultima series. It first made an appearance in Ultima III, but its most famous symbolic appearance came in Ultima IV.
The ankh is an ancient Egyptian symbol that represents life and rebirth. In the Ultima series, it has various associations and meanings. It is the symbol of the Virtue of Spirituality. It is also the emblem of The Avatar and a symbol of Avatarhood.
In Ultima IV, there are also several speaking ankhs that could talk to the Stranger and give the hero information and help in the Quest of the Avatar.
See also
Edit
Ad blocker interference detected!
Wikia is a free-to-use site that makes money from advertising. We have a modified experience for viewers using ad blockers

Wikia is not accessible if you've made further modifications. Remove the custom ad blocker rule(s) and the page will load as expected.