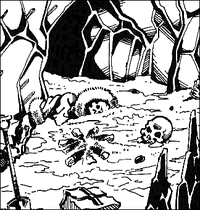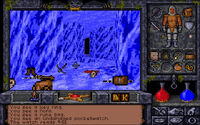 Anodunos
was once a great city-state, a trading center for the southern continent of its world (name unknown), famed for its rich
Filanium
deposits. Its people were losing a war with the northern city-states, and its sorcerers sought aid from the being called the
Guardian
.
He won their war for them, making them lords of their world for a time. The Guardian demanded things in return, however -- first supplies, then weapons, and finally soldiers and slaves. Only too late, the people of Anodunos understood the nature of their ally. They eventually refused the Guardian's demands, but by that time they had helped him gain too much power over the world. The Guardian crushed their nation utterly.
At midday, on the day the city fell, the fountain in the town square froze over instantly. Then, the people felt the cold air flowing outwards. Eventually, the entire continent had frozen.
When the Avatar arrived in the ice caves that led to the frozen capital in Ultima Underworld II, the hero had to first release the dam controls to free the way to the city. Ending the Guardian's magic in the area, the souls of the city were laid to peace. Later, the Avatar had to use the Filanium deposits in the quest.
Only three people remained in this cold hell:
---
Ad blocker interference detected!
Wikia is a free-to-use site that makes money from advertising. We have a modified experience for viewers using ad blockers

Wikia is not accessible if you've made further modifications. Remove the custom ad blocker rule(s) and the page will load as expected.