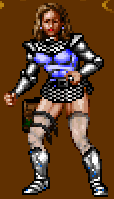 Originally forged by Standarr of Monitor, the Armour of Beauty was one of several items exchanged into the Avatar's inventory by a teleport storm upon the hero's arrival on the Serpent Isle, at the start of Ultima VII Part Two. In the case of this white breastplate, it replaced the Avatar's magic armour.
Sometime after the exchange, the Avatar arrived in Fawn and discovered that Kylista, Priestess of Beauty, was the original owner of the Armour, meaning she was now in possession of the hero's magic armour. Kylista, taking the return of the Armour of Beauty to Fawn as a sign from the heavens, gladly exchanged the Avatar's magic armour for the breastplate.
Not merely a symbolic piece of armour, the Armour of Beauty has a defensive rating of "4," making it equal in protection to plate armour.
The Avatar's magic armour can be retrieved without Kylista's permission, allowing the group to keep the breastplate.
Ad blocker interference detected!
Wikia is a free-to-use site that makes money from advertising. We have a modified experience for viewers using ad blockers

Wikia is not accessible if you've made further modifications. Remove the custom ad blocker rule(s) and the page will load as expected.