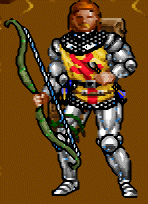 These are the standard
Arrows
that are sold by every
Bowyer
. They are not special in any way and don't deal any extra damage, but will work with any normal
Bow
and most
Magic Bows
. Thankfully, every adventurer with some
magic
skill can upgrade these to superior
Magic Arrows
with the spell
Enchant
.
Variants
Edit
Several specialized kinds of arrows exist by the time of Ultima VII:
Buyable arrows -- as well as the need to purchase separate ammunition -- first appeared in Ultima V.
In Ultima IX, it is also possible to use Fire Arrows and Mana Arrows.
Ad blocker interference detected!
Wikia is a free-to-use site that makes money from advertising. We have a modified experience for viewers using ad blockers

Wikia is not accessible if you've made further modifications. Remove the custom ad blocker rule(s) and the page will load as expected.