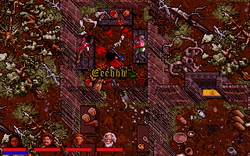 Astrid was the former Knight Champion of Monitor. She belonged to the Bear Command, and held the title of Champion for three years (more than any other). She was killed by Goblins in an attack on the Fawn Tower, which was set up by Lord Marsten and Spektor (though neither intended or wanted Astrid to die).
She was the bearer of the Helm of Courage before it fell into the hands of the Goblins. in Ultima VII Part Two, Astrid's body can be found at the kitchen in the Goblin camp (see picture) and brought back to Monitor for cremation.
Ad blocker interference detected!
Wikia is a free-to-use site that makes money from advertising. We have a modified experience for viewers using ad blockers

Wikia is not accessible if you've made further modifications. Remove the custom ad blocker rule(s) and the page will load as expected.