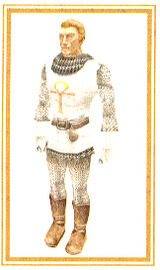 The
Avatar Armour
is only specially made for the Avatar. It is very lightweight, but sadly also doesn't offer much in the way of protection. It raises the question why the hero of
Britannia
has such a weak protection as standard armour.
A complete set consists of:
| | |
| --- | --- |
| Piece | Defense Value |
| Tunic | 3 |
| Arms | 1 |
| Gloves | 1 |
| Leggings | 1 |
| Boots | 1 |
It is the starting armour in Ultima IX.
A finely woven steelcloth, the armor of the Avatar provides a meager protection against piercing weapons. When the chance is presented, this shirt should be replaced by armor that afford superior protection against spellcasting and stormy weather.
It is truly bad armour. The player should get rid of it as soon as arriving in Britain.
Ad blocker interference detected!
Wikia is a free-to-use site that makes money from advertising. We have a modified experience for viewers using ad blockers

Wikia is not accessible if you've made further modifications. Remove the custom ad blocker rule(s) and the page will load as expected.