Barako Tribesmen



Barako Tribesmen, from Savage Empire

Species:
Human
Appearances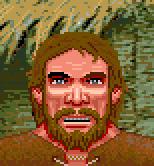 The
Barako Tribesmen
are the mainstay of the
Barako Tribe
in
Savage Empire
.
The men and women of the Barako tribe follow their leader Halawa. They talked to the Avatar about the two strangers who recently appeared in their land, the young stranger named Fritz who was living in a cave to the north, and the old man Topuru who lived on a small island to the west of their village. They also told the Avatar about their warfare with the Pindiro Tribe to the east.
Ad blocker interference detected!
Wikia is a free-to-use site that makes money from advertising. We have a modified experience for viewers using ad blockers

Wikia is not accessible if you've made further modifications. Remove the custom ad blocker rule(s) and the page will load as expected.