The
Black Knight
is the main enemy in
Runes of Virtue
and
Runes of Virtue II
.
His character is not very developed, as is portrayed as a classical villain. His plans include stealing the Runes and abducting the mayors of the eight cities.
The Player destroys him in the end.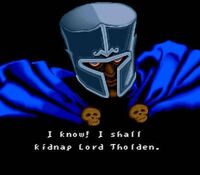 The portrayal of the Black Knight in Runes of Virtue II on the SNES looks a lot like Magneto from the X-Men, which is especially noticeable on the picture on the left.