---
This community has created an alternative version of this wiki. Please see the forum for discussion.
---
---
This is an Ultima V: Lazarus-related article or section. The information within may not apply to Ultima V or other Ultima games.
---
This map shows Britain in the labeled version. Click on the image to get a larger version.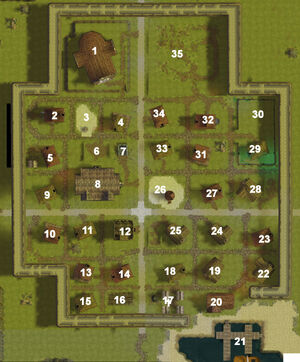 Listed below are the labels:
Bard's Guild
Trainer: Jimmy Locks, Disarm Traps, Rapid Strike
Park
Fagles' home
Silvy and Shivan's home
Horseyard
Wine Cellar
Inn: The Wayfarer
Antos and Eb's home
Home of the lady who spends her whole day at the inn talking to Greyson
Thom's home
Guard-tower
Justin's home
Donya's home
Terrance's home
Cabbage and corn-field
Storage booths
Oreste's home
Jeweler
Shipyard
Docks
Provisions
Salan's home
Clothier
Iolo's Bows
Pavilion
Toymaker
Trainer: Battle Focus and Recovery
Gustavo's home
Cemetery
Tika's home
Lord Petyr's home
Gwenneth & Gwenno's home
Miranda's home
Apple orcharhd