---
This community has created an alternative version of this wiki. Please see the forum for discussion.
---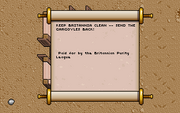 The
Britannian Purity League
was an organization in
Ultima VII
devoted to driving the
gargoyles
off of mainland
Britannia
. The organization primarily operated in areas with a high concentration of gargoyles and
humans
, such as the desert city of
Vesper
. However, while they advocate open hatred, they themselves don't dare to operate in public, since hateful speech such as the kind they spew is forbidden in Britannia. This explains why
Liana
in Vesper acts so carefully when giving the
Avatar
a scroll with propaganda.
The scrolls the Avatar sees in Ultima VII read, "Keep Britannia clean! Send the gargoyles back!"
The league was designed to be similar to real life hate groups.
Ad blocker interference detected!
Wikia is a free-to-use site that makes money from advertising. We have a modified experience for viewers using ad blockers

Wikia is not accessible if you've made further modifications. Remove the custom ad blocker rule(s) and the page will load as expected.