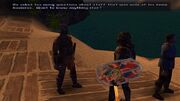 Brutus is a bully of a man in Buccaneer's Den in Ultima IX.
The Avatar met Brutus harshly punishing Linus on the shores of Buccaneer's Den. Brutus refused to let the Avatar speak to Linus, and if the Avatar pleaded for Compassion, Brutus merely scoffed, saying Linus had asked too many questions.
The Avatar could choose to fight Brutus, thus freeing Linus from his slavery.
Ad blocker interference detected!
Wikia is a free-to-use site that makes money from advertising. We have a modified experience for viewers using ad blockers

Wikia is not accessible if you've made further modifications. Remove the custom ad blocker rule(s) and the page will load as expected.