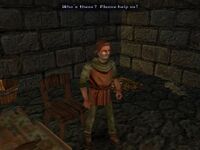 Castro and Felix are treasure hunters in Ultima IX who, along with their friends Mourdin and Thadious, were searching the dungeon Despise for the legendary Kiran Shield, with the Kiran Stones as the key. However, their quest quickly turned to disaster.
On their search for the yellow Kiran Stone, Castro and Felix got caught by the brainwashed Iolo, who put them into a prison cell near the entrance of the dungeon. They were imprisoned in there for almost a week, before the Avatar found them there, hearing through the door their argument and complaints about how hungry they were.
Once freed, they told the Avatar the story of Kiran, and that they'd come into the dungeon after they had been thrown out of Britain thanks to mayor Aidon's policies. They revealed the position of the yellow stone, and that their two friends had ventured deeper into the dungeon. Then they left to get something to eat.
The Avatar can listen in on Castro and Felix having a rather odd conversation regarding a giant rat.
Ad blocker interference detected!
Wikia is a free-to-use site that makes money from advertising. We have a modified experience for viewers using ad blockers

Wikia is not accessible if you've made further modifications. Remove the custom ad blocker rule(s) and the page will load as expected.