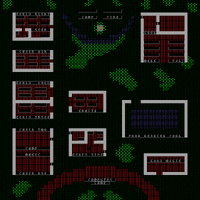 The Computer Camp was a village located on the planet Neptune of the Terran Solar System in the year 2112 A.D.. In Ultima II, it was yet another strange by-product of Minax's alteration of the timeline, visited during the Stranger's interstellar journey.
Other than its curious location, it was mostly unremarkable; there was, however, a surprisingly large Orc population here, as well as one particularly interesting inhabitant (see Trivia).
When Minax was killed, her damage to the timeline was repaired, and thus the Computer Camp faded from existence.
Shops and Services
Edit
Cleric spells ("Good Magic")
Grocery ("Mess Hall")
Oracle ("Seer" in Cabin Eight)