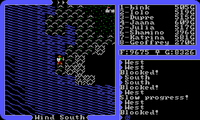 The Anti-Sacrifice Dungeon of Covetous was first entered in Ultima IV where ferocious orcs and savage trolls[1] made it dungeon their home. The Orange Stone was found in it, and magic orbs which increased dexterity and strength. The dungeon connected to two of the Altar Rooms.
Magic Orbs: +5DEX +5STR; 400 damage
South of Minoc only reachable by ship or spell: B'L" J'"M
Orange Stone on level 7
Walkthrough
Edit
Covetous has some tricks up its sleeve. The Orange Stone is located on level 7, while there are Orbs on the levels 3 and 6.
On level 1, exit the dungeon room to the east, then follow the path on level 2 to the ladder to level 3. Go through the rooms first to reach the Orb, then backtrack to exit to the northwest. Take a ladder of your choice to level 4. There are strange winds on that level. Enter the eastern dungeon room and enter one of the smaller chambers to reveal tunnel to the ladder.
On level 5, go directly to level 6. You will encounter more winds. First take the three Orbs, then ascend the two other ladders to get the gold on level 5. Next, take the ladder that deposits you north of the level 7 dungeon rooms. Find the secret wall in the east and behind it the Orange Stone.
References
Edit
Ad blocker interference detected!
Wikia is a free-to-use site that makes money from advertising. We have a modified experience for viewers using ad blockers

Wikia is not accessible if you've made further modifications. Remove the custom ad blocker rule(s) and the page will load as expected.