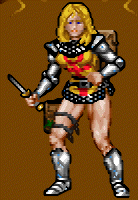 The
dagger
is an inexpensive, functional, versatile weapon. Unlike most melee weapons, daggers can also be thrown at range in a pinch. Usually a fallback or for those who can afford nothing better, daggers have seen use since before the first
Age of Darkness
.
According to Vetron's Guide to Weapons and Armour, the dagger has a "1" effectiveness rating.
Daggers first appeared in Ultima I and have been in the series ever since. They were first throwable in Ultima III.
However, there are several special kind of daggers:
Ten inches of beautifully worked steel make the standard Britannian dagger. The traditional basket hilt looks very functional. A favorite weapon of novices.
- from The History of Britannia (Ultima IV)
Daggers offer two choices. The common dagger is useful when its ability to be concealed is a benefit; and it can be thrown in open combat. The main gauche is more formidable, especially when used as a second weapon.
- from Book of Lore (Ultima V)
Useful for stabbing and cutting in close-quarter fighting or throwing in long range combat, the dagger is a most convenient and lightweight weapon to keep on hand.
- from Compendium (Ultima VI)
Ad blocker interference detected!
Wikia is a free-to-use site that makes money from advertising. We have a modified experience for viewers using ad blockers

Wikia is not accessible if you've made further modifications. Remove the custom ad blocker rule(s) and the page will load as expected.