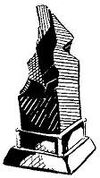 Dream Crystals
are small crystals that lovers exchange so they might dream of each other.
Rabindrinath
once collected many of these to make a single large Dream Crystal, which caused the rift in
Gorlab Swamp
, that trapped the souls of all the inhabitants of Gorlab inside the
Dream Realm
. This was ultimately destroyed by
Siranush
and dream crystals ceased to exist on present day
Serpent Isle
.
Edrin wears a Dream Crystal.