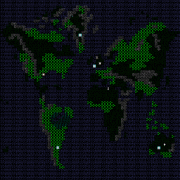 A future version of
Earth
(from the perspective of 1982), as affected by
Minax
's meddling with the timestream in
Ultima II
, populated with people and technology.
Castle Britannia
still stood at this time, as well as the town of
New San Antonio
and the village of
Port Bonifice
, all of which had major significance to the eventual triumph of the
Stranger
over Minax.
Besides the Greenland dungeon, a tower also is found in northern Africa.
The present—if we can still call it that. Specifically, 1990. It is, but apparently now not as it was to have been, a rather perilous time of planetary egocentricism leading to an overemphasis on dangerously shaky interplanetary jealousies and greed. The times reflect the people who suffer stress with a sense of urgency that encourages pragmatism over reason, dulls an awareness of values and leads weaker souls to lives of crime.
- from The Second Age of Darkness (Ultima II)
---
Ad blocker interference detected!
Wikia is a free-to-use site that makes money from advertising. We have a modified experience for viewers using ad blockers

Wikia is not accessible if you've made further modifications. Remove the custom ad blocker rule(s) and the page will load as expected.