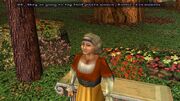 Elaina is a gossip living in Yew in Ultima IX.
When the Avatar first met Elaina and Teresa, they were excited due to the upcoming trial of the pirate Raven; although, Teresa mistakenly thought her name was Robbie and Elaina thought it was Rebecca, with Teresa even getting Raven confused with a previous defendant, Claire. They also threatened the Avatar, believing him to be lying about his identity, and suggesting this was dangerous. Elaina and Teresa were little interested in the facts of the trial, simply believing her to be guilty regardless. Elaina was particularly fond of burning at the stake, while Teresa preferred a hanging.
After Raven's trial, the two women excitedly prepared for the trial of the bowyer, Raliegh, believing he'd soon be in the court house.
Both women apologized for their actions after the Shrine of Justice was cleansed.
Ad blocker interference detected!
Wikia is a free-to-use site that makes money from advertising. We have a modified experience for viewers using ad blockers

Wikia is not accessible if you've made further modifications. Remove the custom ad blocker rule(s) and the page will load as expected.