Ad blocker interference detected!
Wikia is a free-to-use site that makes money from advertising. We have a modified experience for viewers using ad blockers

Wikia is not accessible if you've made further modifications. Remove the custom ad blocker rule(s) and the page will load as expected.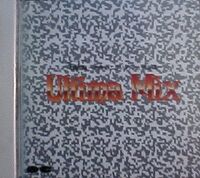 The Exodus "Ultima Mix" CD
was published by Canyon Records in 1987. It contains remixes of the music from the
NES-Port of Ultima III
and was only available in Japan.
Sound Producer (Composer) : Tsugutoshi Gotoh
Manipulator: Takeshi Fujii, Itaru Sakoda
Remix Engineer: Masayoshi Ohkawa
Original price: 3200¥
Track list
Edit
1) Chika Meikyu— Dungeon— (Dungeon)
2) Yuushatachi no Tabi (Heroes are on a Journey)
3) Ambrosia no Nazo (the Secret of Ambrosia)
4) Michi heno Koukai (Voyage to Unknown Place)
5) Heart no Jishaku (the Compass in my heart)
6) Kyoufu no Exodus (Fearsome Exodus)
7) Yasuragi no Machi (Gentle Town)
8) Seinaru Tatakai (Jihad)
9) Eien no Shiro Britannia (the Everlasting Castle of lord British)
10) Haja no Kikan (Return of the Winner)
11) Ultima — Hitomi no Knife— (Ultima —Sharp Eye Looks Like Knives—)