Forgotten World is a project founded by Firstknight, in order to modify Ultima IX for the better.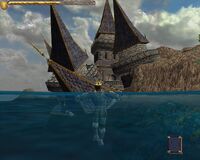 The project's first stage is to enrich the rather bland and empty landscape of the Britannia of Ultima IX. Further stages involve deeper changes to the game, like more sub-maps to enlarge the world, and changes to the flow of the game and inconsistencies in order to make it fit better in the Ultima continuity.
The understanding of the internal workings of Ultima IX has been completed, and the team has begun with making Britannia more pretty. They also started to create sub-maps (such as a map called "Way to Despise"). Their biggest feat up to now is the re-location of the ruins of Empath Abbey to the fitting location, while at the same time making the ruins look much more impressive. They also found a technical way to eliminate the fog in the game, creating breathtaking landscapes when combined with their enhanced overworld.
Beautiful Britannia is a spin-off of this project, which aims only at improving the visual aspects of Ultima IX, while leaving the rest of the game unchanged. Firstknight departed the Forgotten World team in order to work on Beautiful Britannia.
External Links
Edit
Ad blocker interference detected!
Wikia is a free-to-use site that makes money from advertising. We have a modified experience for viewers using ad blockers

Wikia is not accessible if you've made further modifications. Remove the custom ad blocker rule(s) and the page will load as expected.