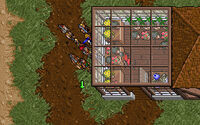 The
Greenhouse
in
New Magincia
is the only one in all of
Britannia
. The flower-seller
Sam
grows here exotic flowers from all parts of Britannia, even the tropical ones. The warm and humid climate in the fully glass-made greenhouse makes these flowers grow well. And mundane as it seems, the greenhouse with the adjacent flower market is worth a visit.
The flower market is opened from 9:00 to 18:00 on every day.
Ad blocker interference detected!
Wikia is a free-to-use site that makes money from advertising. We have a modified experience for viewers using ad blockers

Wikia is not accessible if you've made further modifications. Remove the custom ad blocker rule(s) and the page will load as expected.