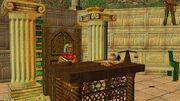 ---
This article is about an NPC from Ultima IX. For a city in Ultima I and Ultima III, see Grey.
---
Grey is the judge of the High Court in Yew in Ultima IX.
The Avatar first met Grey presiding over his court in the corrupted city of Justice. He readily sentenced the tavernkeeper Jean-Paul to death by fire for serving the alcohol that allowed one of his patrons to become injured while intoxicated. No amount of pleading would stir him towards Compassion. After this case was resolved, he saw a case issued by Vasagralem against the pirate Raven regarding the destruction of the gargoyle race. Despite a lack of facts related to the case, and the Avatar's plea for Raven's innocence, Judge Grey sentenced Raven to the dungeon Wrong until such time as she would be put to death.
After the Avatar cleansed the Shrine of Justice, and Vasagralem pleaded for Raven's innocence, Grey realized he had erred in his pursuit of justice, thus proclaimed Raven innocent. Afterward, he personally thanked the Avatar for showing him the error of his ways.
Ad blocker interference detected!
Wikia is a free-to-use site that makes money from advertising. We have a modified experience for viewers using ad blockers

Wikia is not accessible if you've made further modifications. Remove the custom ad blocker rule(s) and the page will load as expected.