Haakur Tribesmen



Haakur Tribesmen, from Savage Empire

Species:
Human
Appearances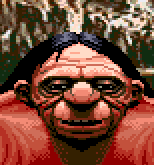 The
Haakur Tribesmen
make up the mainstay of the
Haakur Tribe
in
Savage Empire
.

The Haakur Tribesmen are amongst the least intelligent humanoids of Eodon, and don't even possess their own name. Barely capable of speech, the Avatar gleaned little in the way of useful information from these tribesmen.
Ad blocker interference detected!
Wikia is a free-to-use site that makes money from advertising. We have a modified experience for viewers using ad blockers

Wikia is not accessible if you've made further modifications. Remove the custom ad blocker rule(s) and the page will load as expected.