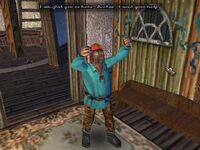 Hans
is the keeper of the
Lighthouse
near
Britain
during
Ultima IX
.
When meeting him, Hens told the Avatar of how Lord British had given funds for the erection of four lighthouses. However, the light crystals for three of them had been lost during shipment, and Hans feared that they would never reach their destinations. He asked the Avatar about finding them, getting them polished in Britain, and then installing them in the fitting lighthouses.
The Avatar accepted the job, and after all the crystals had been properly installed, Hans gave the promised reward.
Hans offers 100 gp for completing this quest.
Hans also has a Sextant in his lighthouse.
Ad blocker interference detected!
Wikia is a free-to-use site that makes money from advertising. We have a modified experience for viewers using ad blockers

Wikia is not accessible if you've made further modifications. Remove the custom ad blocker rule(s) and the page will load as expected.