This article is from another MediaWiki and all rights go to the person who has this information! Contact an administrator for more information.
Helmets (often truncated to simply "helms") are armour for one's head. Without a helmet, serious injury to the head - and therefore certain death - can occur in the heat of battle.
Numerous types of helmets have appeared throughout the ages, and hereafter follows a list of all known variations: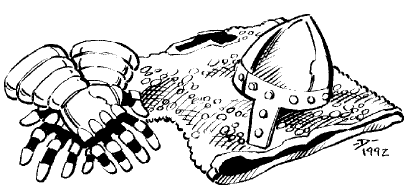 Helms often match body armour in material and strength, but variations, such as offensively spiked helmets, are available.
- from The Book of Lore (Ultima V)
An unprotected head is sure to be the target of any shrewd opponent's sword. Helms are available in a variety of leather and metal forms, and one should be worn at all times when combat seems likely.
- from Compendium (Ultima VI)
For any man who has ever enjoyed a good thought or feeling, a helmet is a wise investment for his kit. In any town of note, helmets can be found in a variety of materials.
---
Ad blocker interference detected!
Wikia is a free-to-use site that makes money from advertising. We have a modified experience for viewers using ad blockers

Wikia is not accessible if you've made further modifications. Remove the custom ad blocker rule(s) and the page will load as expected.