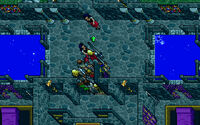 The
House of Baths
in
Buccaneer's Den
is a brothel in
Ultima VII
. It is under the direct control of the
Fellowship
, which receives the money gathered through its services.
For a hefty fee of 300 Gold Pieces, Glenno the bath master allows entry to the House. Inside is everything for a nice evening: lots to read, comfortable beds, hot-spring baths and of course, the prostitutes—for males and females alike—who will fulfill every need of the "guests." What more could a traveler want? This is truly a paradise.
Rumors say that the administration stores its earned money somewhere in the building, and that other secrets lie within...
The money can only be looted when coming from the caves, as the lever to open the door from the baths is unreachable from inside the building.
Fooling around here is the best way to disgust Lasher the Unicorn.