Intanya



Intanya, from Savage Empire

Species:
Human
Appearances
Intanya is the shaman of the Kurak Tribe in Savage Empire.
When the Avatar first awoke from his encounter with Darden, he met Intanya who explained the events that had transpired since he had been rendered unconscious. Before Intanya was convinced that the Avatar had regained his senses, he was required to answer several questions to prove his identity (Intanya manages Savage Empire's copy protection scheme).
Intanya explained to the Avatar that should he fall unconscious or be wounded during his adventures, he would be returned to the shaman to recover, and that he could return for healing at any time.
Intanya told the Avatar that no sign of Aiela had been seen since her capture, and the location of the Urali Tribe remained a mystery. He further mentioned that Dr. Rafkin was with the Yolaru Tribe to the east and Jimmy Malone was with the Disquiqui Tribe to the south. He also spoke of his apprentice Triolo, who he had been teaching the way of the spirits.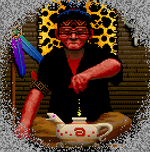 At the start of Savage Empire, Intanya also asks the Avatar a series of questions (beginning with the hero's chosen name), which closely resemble those given by the Gypsy in the character creation sequence of other Ultima installments. These questions determine the player's starting attributes in a similar manner.
Ad blocker interference detected!
Wikia is a free-to-use site that makes money from advertising. We have a modified experience for viewers using ad blockers

Wikia is not accessible if you've made further modifications. Remove the custom ad blocker rule(s) and the page will load as expected.