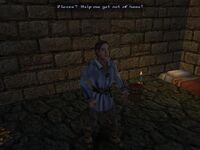 Jean-Paul
is the owner of the tavern of
Yew
in
Ultima IX
.
Prior to the Avatar's arrival, a patron who'd drunk too much had injured himself, and accused Jean-Paul of being guilty of neglect. Thanks to the corruption of the court, he was sentenced to lifelong imprisonment in Wrong in a mock trial, while the Avatar watched the exchange between him and the judge, Grey.
The Avatar later found him in prison, and could choose to free him.
Ad blocker interference detected!
Wikia is a free-to-use site that makes money from advertising. We have a modified experience for viewers using ad blockers

Wikia is not accessible if you've made further modifications. Remove the custom ad blocker rule(s) and the page will load as expected.