Jesters normally exist purely as a joyful source of color and entertainment for the everyday citizen. However, their fun-filled facade can sometimes mask great maliciousness. A warped jester can quickly turn from harmless fool to deadly joker -- beware of these dangerous individuals!
Sometimes known as "larks" in earlier Ages, jesters can primarily be found in and around castles.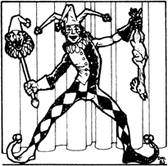 Bouncing around in eternal jumping jacks, jesters are usually the buffoons you'd expect but sometimes the buffoonery masks great wisdom.
- from The Second Age of Darkness (Ultima II)
They entertain Lord British with their antics. Occasionally they even harass visitors.
- from The Book of Play (Ultima III)
Notable Examples
Edit
Ad blocker interference detected!
Wikia is a free-to-use site that makes money from advertising. We have a modified experience for viewers using ad blockers

Wikia is not accessible if you've made further modifications. Remove the custom ad blocker rule(s) and the page will load as expected.