Ad blocker interference detected!
Wikia is a free-to-use site that makes money from advertising. We have a modified experience for viewers using ad blockers

Wikia is not accessible if you've made further modifications. Remove the custom ad blocker rule(s) and the page will load as expected.
The
Keyring Mod
is a modification for
Exult
that adds a number of quests and features to
Ultima VII: The Black Gate
. It is maintained by Marzo Sette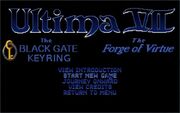 Torres Junior and is available from the Exult source code repository or from Marzo's homepage:
Seven Towers
. The patch requires the newest
Exult
snapshot to run.
The mod has numerous improvements, including: