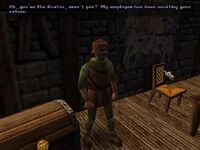 Killigan
is the aide of mayor
Aidon
of
Britain
at the time of
Ultima IX
.
When the Avatar first met Killigan, it quickly became clear that he was a really unpleasant man who seemed to agree with the mayor's fatal policy of deporting the sick and poor out of innermost agreement and not corruption. Later, he proved his ruthlessness by having the mayor's own daughter, Maribeth, deported to Paws.
After Aidon changed his politics, Killigan did everything to sabotage his efforts, so when Kimberly in the Cathedral of Love complained that Killigan hadn't returned the cathedral's money to them, the Avatar investigated. With magic-aided vision, the Avatar discovered a letter that proved that Killigan was actually working for Blackthorn. Killigan caved in when confronted with this, but the Guardian immediately killed him for his failure.
The Avatar can't tell Aidon of Killigan's treachery.
Ad blocker interference detected!
Wikia is a free-to-use site that makes money from advertising. We have a modified experience for viewers using ad blockers

Wikia is not accessible if you've made further modifications. Remove the custom ad blocker rule(s) and the page will load as expected.