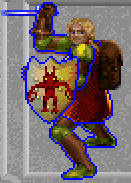 While
Korghin's Fang
looks like a ordinary dagger, it isn't. Stronger than any other weapon of that size on
Pagan
, it helps the wearer in combat, and makes him harder to hit.
The Avatar received Korghin's Fang after asking Mythran's permission to take it from his home.
This dagger gives +4 Dexterity and +1 Armor Class.
In Ultima IX, it is seen in the Royal Museum in Britain. This is a rather large error in canon, given that the Fang comes from a different world than Britannia, and it was left behind in Pagan when the Avatar returned to Earth at the end of Ultima VIII.
Ad blocker interference detected!
Wikia is a free-to-use site that makes money from advertising. We have a modified experience for viewers using ad blockers

Wikia is not accessible if you've made further modifications. Remove the custom ad blocker rule(s) and the page will load as expected.