Light
Talk

0
2,800pages on
this wiki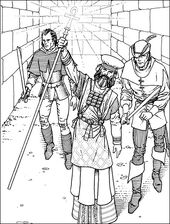 Words of Power: IN LOR
Reagents: SA
Circle: 1st
Darkness is truly the enemy of the adventurer. If it is night, or the party is deep inside a dungeon, creatures of evil will use the darkness to attack clandestinely. With this spell, things are literally brightened up, and a light source will show what is normally hidden by darkness. This is stronger than the Glimmer spell but weaker than the Great Light spell.
The White potions fulfil the same purpose as the spell, but less effectively.
The enchantment of Light is a trivial one, often the very first spell acquired by the budding sorcerer. It requires but a pinch of Sulphurous Ash, which is applied to the end of a staff and gently blown upon until it begins to glow with a soft yellow light. The spellcaster must concentrate briefly on the image of a candle and expend a slight amount of energy to start the magical glow. From then on it will burn softly until the reagent is consumed, lighting the underground passages where the thaumaturge treads. There are two principal advantages to the use of Light spells in place of ordinary torches. They are unaffected by all but magical winds or breezes; and they do not smoke and cause one's eyes to smart. Many a warrior has suffered grievously because his eyes were shut by the sting of a wealth of tears.
- from The Book of Mystic Wisdom (Ultima IV)
This simple spell creates a pool of light. Although a short duration, In Lor creates a brighter light than the best of torches. Note, however, that In Lor cannot be used in place of real flame to enhance the mixing of reagents for spells, for its properties are quite different. In Lor's sole ingredient is sulphurous ash powder. Place the powder upon the object intended as the light source; rub it rhythmically while chanting "In Lor." Almost instantly, the object will blaze with white light.
- from Book of Lore (Ultima V)