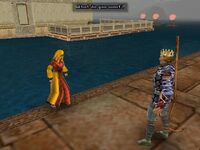 Lindonia
is the wife of the
Paladin
Lucero
of
Trinsic
.
When the Avatar met her at the docks in Ultima IX, she complained how the loss of the Chalice of Honor had devastated her husband, who these days spent his entire time moping around over this. She'd tried telling him that it didn't mean he'd lost his personal honor, but he didn't listen. Lindonia couldn't believe that the Avatar wanted to help with the situation without wanting something in return, letting slip how the people in the city had become greedy and unreliable.
After Lucero had given his life to regain his honor, she was found grieving at his grave.
Ad blocker interference detected!
Wikia is a free-to-use site that makes money from advertising. We have a modified experience for viewers using ad blockers

Wikia is not accessible if you've made further modifications. Remove the custom ad blocker rule(s) and the page will load as expected.