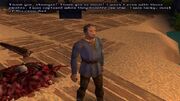 Linus is a slave on Buccaneer's Den in Ultima IX
When the Avatar met Linus, he was being brutally disciplined by Brutus. While the Avatar could not initially speak with Linus, should the Avatar kill Brutus, Linus would explain how he had fallen into slavery. Linus told the Avatar how he was on a ship that was captured by pirates, and most of the crew was killed. He was one of the few lucky enough to survive; although, he heard the captain was being held for ransom in a cave.
Ad blocker interference detected!
Wikia is a free-to-use site that makes money from advertising. We have a modified experience for viewers using ad blockers

Wikia is not accessible if you've made further modifications. Remove the custom ad blocker rule(s) and the page will load as expected.