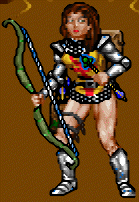 The green-glowing
Lucky Arrows
are practically the same as the normal
Magic Arrows
. The difference is, that additionally to the increase in damage, the targeting is even superior to the Magic Arrows. Essentially, a Lucky Arrow never misses. However, such a precision comes at a price, the arrows are rare since they are difficult to create, and therefore can only be found, not made or bought by adventurers.
Lucky Arrows put +4 on the basic damage.
They first appear in Ultima VII.