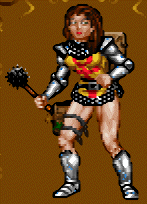 An advancement of its poor cousin, the
club
, the
mace
has seen service in
Britannia
since before the coming of
Mondain
. Favored by priests of all sorts, this heavy bludgeoning weapon can cause a foe's bones to splinter and break -- thus making it particularly useful for fighting certain types of Undead monsters, such as
skeletons
. Further development of the mace resulted in the
morning star
.

Respected for its effectiveness and relatively cheap cost, it is a weapon likely to be used for ages to come. According to Vetron's Guide to Weapons and Armour, the mace has a "5" effectiveness rating.
A special mace appearing in Pagan is the Slayer.
Upon the 11/2 inch thick oaken stem of the Britannian mace rests a globe of iron studded with knobs. The impact of this weapon has been known to shatter the skulls of enemies outright. A favorite among the druids.
- from The History of Britannia (Ultima IV)
Ad blocker interference detected!
Wikia is a free-to-use site that makes money from advertising. We have a modified experience for viewers using ad blockers

Wikia is not accessible if you've made further modifications. Remove the custom ad blocker rule(s) and the page will load as expected.