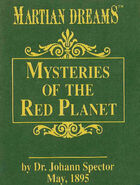 The book
"Mysteries of the Red Planet"
comes with
Martian Dreams
. It is 24 pages long. In-game,
Dr. Spector
has written the book. In real-life, Warren Spector has written the book. That Warren Spector's alter ego has written the book is quite amusing.
The following topics are part of the book:
The terrain of Mars
Survival on the planet
Mystery of the Berries
Martian civilisation
The book is written from Dr. Spector's perspective and is rather scientific, containing large amounts of information on Mars of the 1890s.
External Links
Edit
Ad blocker interference detected!
Wikia is a free-to-use site that makes money from advertising. We have a modified experience for viewers using ad blockers

Wikia is not accessible if you've made further modifications. Remove the custom ad blocker rule(s) and the page will load as expected.