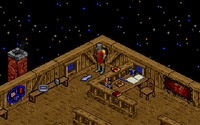 Mythran of Pagan, a powerful mage, thrust the interior of his house into the Ethereal Void. It was later visited by the Avatar in Ultima VIII. Mythran himself, however, considered this feat as nothing particularly extraordinary and wondered how the Avatar could think of it as fantastic.
Ad blocker interference detected!
Wikia is a free-to-use site that makes money from advertising. We have a modified experience for viewers using ad blockers

Wikia is not accessible if you've made further modifications. Remove the custom ad blocker rule(s) and the page will load as expected.