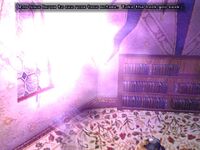 The
Oracle of Moonglow
is a mysterious voice of wisdom stored the city's floating library in
Ultima IX
.
After gaining access to the library, the Oracle revealed to the Avatar how to gain the mantra of Honesty. It also forced the Avatar to admit fault that Britannia was attacked by the Guardian, before it allowed the Book of Truth to be taken.
Ad blocker interference detected!
Wikia is a free-to-use site that makes money from advertising. We have a modified experience for viewers using ad blockers

Wikia is not accessible if you've made further modifications. Remove the custom ad blocker rule(s) and the page will load as expected.