This article is from another MediaWiki and all rights go to the person who has this information! Contact an administrator for more information.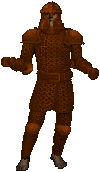 The Phoenix Armour Set is a 6-piece Item Set.
This set is an unofficial set - that is to say, a collection of items which obviously should be put together but grant nothing other then bragging rights should you construct a complete set.
Parts of this set were only obtainable as a reward option from the 1999 Clean Up Britannia event. There are six pieces to the set, each piece cost 100,000 points, and they were randomly selected when requested as a reward - hence getting a complete set together was very difficult.
In 2004, an EM event was held on Japanese shards in which the helm piece was made available to players as a prize (need more info/clarification on this).
The parts of this set have never spawned as loot on Phoenixes.
Total Stats
Components
See Also
{{#fornumargs: key | value | [[Category:{{#var: value}}|Phoenix Armour Set]] }}