Ad blocker interference detected!
Wikia is a free-to-use site that makes money from advertising. We have a modified experience for viewers using ad blockers

Wikia is not accessible if you've made further modifications. Remove the custom ad blocker rule(s) and the page will load as expected.
This article is from another MediaWiki and all rights go to the person who has this information! Contact an administrator for more information.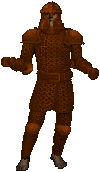 The Phoenix Armour Set is a 6-piece Item Set.
This set is an unofficial set - that is to say, a collection of items which obviously should be put together but grant nothing other then bragging rights should you construct a complete set.
Parts of this set were only obtainable as a reward option from the 1999 Clean Up Britannia event. There are six pieces to the set, each piece cost 100,000 points, and they were randomly selected when requested as a reward - hence getting a complete set together was very difficult.
In 2004, an EM event was held on Japanese shards in which the helm piece was made available to players as a prize (need more info/clarification on this).
The parts of this set have never spawned as loot on Phoenixes.
Total Stats
Components
See Also
{{#fornumargs: key | value | [[Category:{{#var: value}}|Phoenix Armour Set]] }}