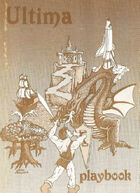 The
Playbook
comes with the original release of
Ultima I
(then simply titled
"Ultima"
) from California Pacific. It is 10 pages long. In-game, an unknown
Sosarian
is the author of the book. In real-life, Richard Garriott has written the book. In the remake, it was replaced with the book "
The First Age of Darkness
".
The following topics are part of the book:
Loading Instructions
Movement
The book is basically little more than an instruction manual with no narrative. However, unusual for 1980, it sports lots of nice illustrations created by Denis Loubet, which mostly show pictures of the various monsters encountered in the game.
External Links
Edit
---
Ad blocker interference detected!
Wikia is a free-to-use site that makes money from advertising. We have a modified experience for viewers using ad blockers

Wikia is not accessible if you've made further modifications. Remove the custom ad blocker rule(s) and the page will load as expected.