This article is a candidate for deletion.
If you disagree with its deletion, please explain why on the talk page. If you nominated this article for deletion, consider if merging and redirecting the article would be a better choice instead.
Description
Edit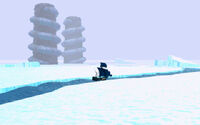 The Polar Regions of Britannia are regions of eternal winter. Snow and ice cover these regions at the most north and south of the planet. Found within them are the Serpent Pillars.
They were never visited in-game besides the intro of Ultima VII Part Two. This is due to the legends surrounding the area. One stated that the Serpent Pillars only appeared in the depths of Winter. Another said that both moons and the sun must be visible.
The real-life explanation is the strange world-model (torus) of the games.
Things to see
Edit