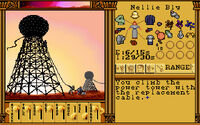 The
Power Plant
of
Mars
is located north of the city
Argyre
, at 14N 26W, and is responsible for powering all of Mars with simple coal.
When the Avatar reached it in Martian Dreams, it was in disrepair. The robot Coker was no longer able to mine coal, since the conveyor belt was broken and didn't work without power. The robot Stoker couldn't start the furnace because of the missing coal. Also, the power-transfer towers were off-line because of broken cables.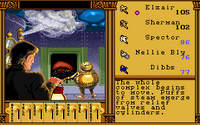 The Avatar first had to repair the conveyor belt for Coker; then coal had to be loaded into the furnace to jump-start the belt, providing Stoker with a constant supply; finally, the tower cables had to be fixed, enabling power transfer to all systems on Mars.
---
Ad blocker interference detected!
Wikia is a free-to-use site that makes money from advertising. We have a modified experience for viewers using ad blockers

Wikia is not accessible if you've made further modifications. Remove the custom ad blocker rule(s) and the page will load as expected.