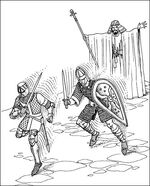 When speed of action is necessary, Quickness will do the job. Whether the caster's party needs to dispatch their foes with expedience, or simply flee the scene without fear of being caught, this spell is an invaluable tool.
The spell of Quickness is one of the most unpredictable yet potent spells in the wizards collection of enchantments, and one of the most telling on his or her companions. When cast during battle, the Quickness spell will heighten the natural dexterity of one's fellows to such a degree that they will move with twice their normal agility - at times they will be able to land two blows against their foes instead of the customary single strike during a round combat. The price is age, for the recipients of the extra speed incurred by the use of Quickness will age briefly while under the sway of the enchantment, yet most feel that an occasional gray hair is but a small price to pay for the advantage of dealing twice the number of blows that one might receive. The reagents for the Quickness spell are fiery Sulphurous Ash, Ginseng, and volatile Blood Moss. The Blood Moss portion is double the others, for movement is the critical aspect of the spell. The Sulphurous Ash lends the flashes of energy needed by the beneficiaries of the enchantment, while the healing powers of Ginseng prevent them from aging so rapidly as to become gray-beards after a single encounter. Throughout the course of the Quickness spell, the spellcaster will be reminded of its effects by the vision of a bright, glowing "Q".
- from The Book of Mystic Wisdom (Ultima IV)
Rel Tym doubles a party's speed, anytime, anywhere. It is especially effective in battle, when a party's members can return two blows for each of the enemies blows. It is also effective in surveillance, when being caught could be disastrous. Sulphurous ash provides energy, blood moss creates movement, and mandrake root provides the magical power required for this incantation.
- from Book of Lore (Ultima V)
Ad blocker interference detected!
Wikia is a free-to-use site that makes money from advertising. We have a modified experience for viewers using ad blockers

Wikia is not accessible if you've made further modifications. Remove the custom ad blocker rule(s) and the page will load as expected.