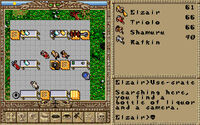 When the broken
moonstone
brought the
Avatar
,
Dr. Rafkin
, and
Jimmy Malone
to
Eodon
, it also brought
Rafkin's laboratory
along with them. Located southeast of the
Kurak Tribe's
village, the laboratory contained a number of items necessary for surviving in the savage lands, including: a fire extinguisher, a fireaxe, a rifle and ammunition, various storage containers, and a number of basic metal tools.
---
Ad blocker interference detected!
Wikia is a free-to-use site that makes money from advertising. We have a modified experience for viewers using ad blockers

Wikia is not accessible if you've made further modifications. Remove the custom ad blocker rule(s) and the page will load as expected.