Ad blocker interference detected!
Wikia is a free-to-use site that makes money from advertising. We have a modified experience for viewers using ad blockers

Wikia is not accessible if you've made further modifications. Remove the custom ad blocker rule(s) and the page will load as expected.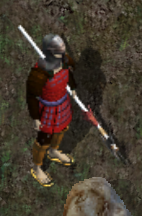 A dishonored, masterless samurai, the Ronin wander the Tokuno Islands
Masters in the arts of Bushido, they can quickly dismount an assailant. Using various weapons and special moves, they will challange any combatant to the death.
In the beginning it seems that they are very severe, but in due course get used to them:))Arrange the house in a location where they go and raise money
Statistics
Edit
{{#fornumargs: key | value | [[Category:{{#var: value}}|Ronin]] }}{{#fornumargs: key | value | [[Category:{{#var: value}}|Ronin]] }}