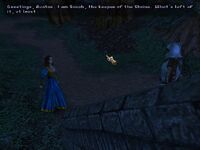 Sarah
is the keeper of the
Shrine of Compassion
in the time of
Ultima IX
.
The Avatar met her at the eastern gate of Britain, where she told the story of how the shrine got destroyed in the first place, adding her theories how dark powers were clouding the minds of the people at the same time. She then revealed how the shrine could be repaired, revealing the mantra of Compassion to the Avatar.
Sarah's likeness is based upon Amy "Cynthe" Sage, which was designer on both Ultima IX and the cancelled Ultima X: Odyssey.
Ad blocker interference detected!
Wikia is a free-to-use site that makes money from advertising. We have a modified experience for viewers using ad blockers

Wikia is not accessible if you've made further modifications. Remove the custom ad blocker rule(s) and the page will load as expected.